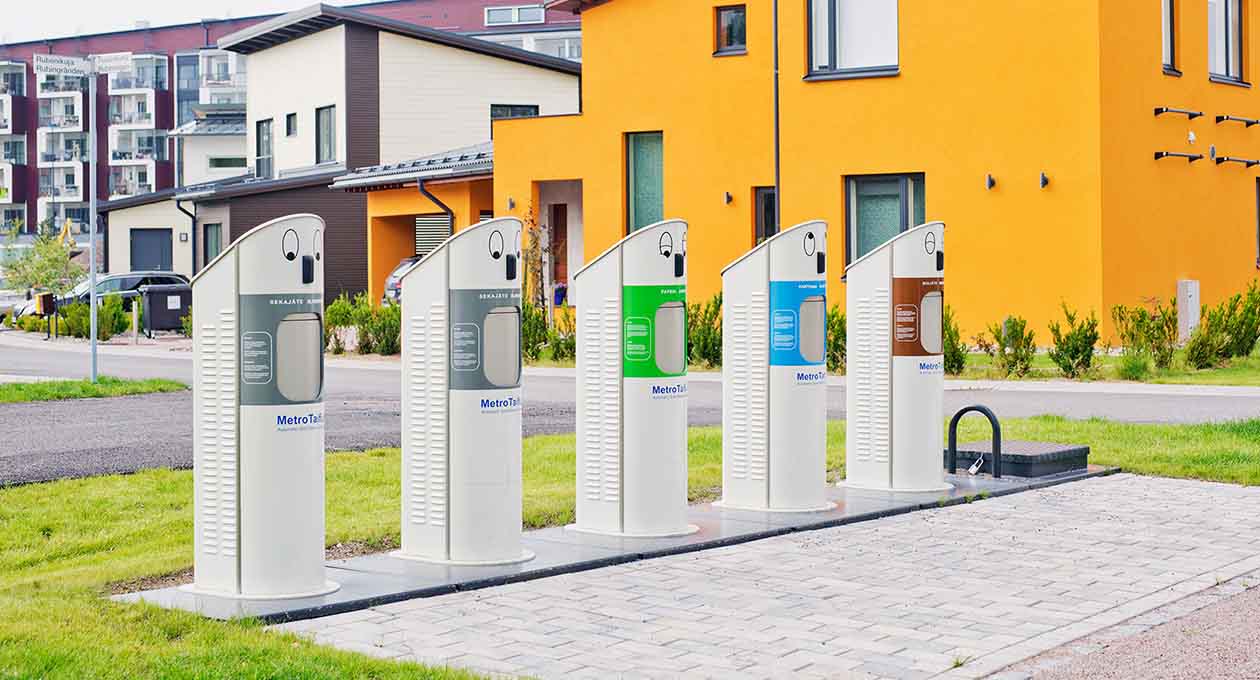 RFID Streamlines Waste Collection
Pneumatic collection system saves more than 50% energy in waste transport; RFID-controlled waste flows

Finnish cleantech company MariMatic Oy develops and delivers automatic waste collection systems for solid municipal waste using energy-saving pneumatic conveying technology. Their technology simplifies the collection and transport of community waste in residential and industrial sites. Both waste and recyclables are conveyed from collection points to central recycling facilities via underground pneumatic pipes. Their solution is hygienic, safer, and much more environmentally-friendly than traditional waste collection. Conveying a ton of waste in a MetroTaifun® system uses less than half the energy waste transport vehicles require.
To control access to its waste collection points, MariMatic chose Idesco RFID readers. Their IP67 protection class ensures they will reliably resist dirt, dust, a wide temperature range and inclement conditions in their exposed outdoor sites. Their highest-possible IK durability rating further assures the readers' robust resistance to vandalism. Marimatic's VP, Sales & Projects, Mika Koivisto, and their R&D Manager, Niclas Tylli, confirmed their satisfaction with their choice of reader. "Idesco readers and their rugged construction were a perfect fit for our waste collection system", commented Niclas Tylli.
Underground siting of waste collection makes particular sense in residential areas. Municipal waste gets transferred immediately to recycling facilities. This then reduces unpleasant odors, eliminates rodent infestations common around waste bins and improves security by lowering waste transport traffic.
Equipping collection points with RFID readers ensures estates' and housing cooperatives' control over their waste collection systems. "It benefits a housing cooperative to control access to their shared waste collection systems, since they pay for waste collection" says Mika Koivisto, MariMatic.
In addition to identifying waste systems users, other benefits might be leveraged from RFID-managed waste collection. "In the future, RFID data could lead to enhanced control of waste flows, and enhanced system capacity optimization", Koivisto says.
The MetroTaifun® system is an Automatic Solid Waste Collection System (AWCS) based on pneumatic conveying technology. With MetroTaifun®, several waste fractions are easily collected, transported, and then sorted into separate containers, making recycling a practical reality.
MetroTaifun is already employed in the city of Tampere in the Vuores area. It has also been employed in the developing areas of Vantaa and Espoo in Finland, in Vällingby Parkstad in Sweden and in Odense, Denmark. MetroTaifun projects are also ongoing in Helsinki, Finland, Sweden, Norway and China, and in Saudi-Arabia where MariMatic builds the world's biggest vacuum conveying system. A system for collecting laundry, in addition to waste, is implemented in Malmi Hospital in Finland and in Henrik Sørensensvei care home in Norway. MariMatic supplies vacuum conveying systems also for transporting food waste in the food industry and kitchens.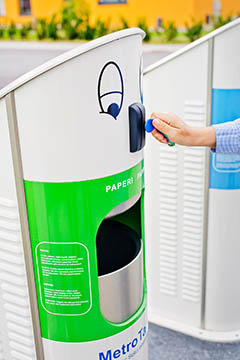 Idesco Oy is an expert of RFID technology with 27 years of experience. Idesco's RFID readers and transponders, controllers and touch screen devices collect data and improve security in various identification applications around the world.
 RFID collects accurate data of movement of persons, vehicles or commodities and reduces manual labor and errors. One of the major application fields of RFID is automatic access control according to personal access rights. The obtained data provides diversified possibilities to use it e.g. in time and attendance management.
MariMatic's video shows how waste collection with RFID works in Kruunuvuorenranta's residential area, Helsinki: https://www.youtube.com/watch?v=iXqf33cqUzY
Photos: MariMatic